Add Your Heading Text Here
The difference between a comfortable home and a not-so-comfortable one is all in the details. At Triple Play Home Services, we know that maintaining your indoor living environment can be challenging. That's why our team of experts is here to help. We offer professional ac maintenance Oklahoma City for homeowners in the area who want nothing less than the best when it comes to comfort.
We take pride in our work, which is why Triple Play Home Services has grown into one of Oklahoma's go-to and trusted HVAC companies since 2009.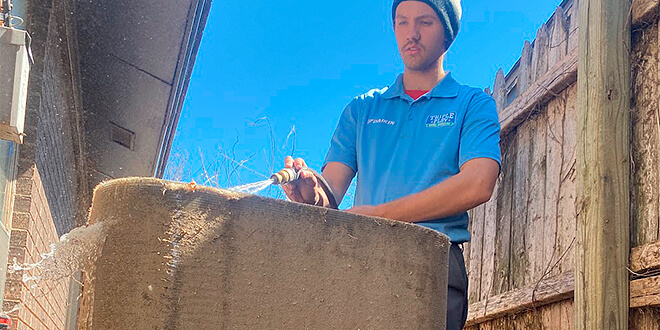 You Deserve an A/C Maintenance that Meets Your Comfort and Budget Needs
At Triple Play Home Services, we take pride in our ability to provide affordable residential A/C maintenance service in Oklahoma City, OK that doesn't cut corners. 
We know that your comfort is essential and that you probably don't want to waste unnecessary time and effort dealing with an inefficient A/C system. That's why our technicians will go the extra mile when servicing your equipment so that it runs better than ever while saving you money at the same time.
We offer several different maintenance programs to meet your needs and your budget, providing you with all of the benefits of the service (long equipment life, optimum unit efficiency, fewer repairs, etc.) at both affordable prices and convenient times.
Keep Your A/C at Its Best Health with Preventive Maintenance
As they say, prevention is better than cure. And this adage also holds true with air conditioning units. Preventive A/C maintenance in Oklahoma City, OK is proven effective in preventing major, costly repairs, keeping the unit efficient, and maximizing the unit's service life.
So keep your cooling unit in its best condition by scheduling a preventive tune-up service. Here are some of what you can get when you leave your A/C maintenance to our experts:
A thorough inspection of your air conditioning unit; no issue would be left unnoticed with our expert's keen eye.

Recommendations for ongoing upkeep based on the manufacturer's warranty information, your specific usage patterns, and any additional factors that would affect the life of your system; we'll never recommend unnecessary repairs or replacement just to maximize our revenue.

With routine inspections performed by our cooling pros, you can rest assured knowing that your air conditioner is in top shape.

We offer competitive pricing in all our services, so you can enjoy all of the benefits without breaking the bank.
Talk to our experts to learn all about the ac maintenance Oklahoma City, OK our experts usually perform.
We Provide Home Comfort You Can Trust—Contact Us Today!
At Triple Play Home Services, we believe that having an HVAC system is only one part of the equation when it comes to staying comfortable in your home. The other half is ensuring the unit is working properly, which can be accomplished by giving the equipment due care.
When it comes to air conditioning maintenance in Oklahoma City, OK, there's no better choice than Triple Play. We're certified and have gained an A+ rating from BBB. And with years of experience in the industry plus adept HVAC techs, we believe we can meet your comfort needs.
Contact us at [phone-number], and let's talk about your A/C maintenance needs in Oklahoma City, OK. We look forward to serving you!