Exceptional Air Duct Cleaning Services in Edmond, OK
When was the last time you had your air ducts cleaned? If it's been over five years, you and all home occupants are likely breathing low-quality air. Don't wait for the polluted air to wreak havoc on your and your loved one's health. Schedule Oklahoma City air duct cleaning today!
Comprehensive Air Duct Cleaning Services in Oklahoma City, OK
Duct cleaning is $40 per vent!
Services include air duct cleaning, supply and return grills cleaning, and indoor unit cabinet vacuum cleaning.
$750 Minimum
We don't want you to think about the price of our services as being tied to how dirty your vents are. No matter what size, we'll clean your vents and all sorts of stuff around there too!
At Triple Play Home Services, we have IAQ specialists and state-of-the-art equipment to help bring healthier and cleaner air back to your home
Here's what our tech uses when delivering residential air duct cleaning in Edmond, OK.
Quality brushes that can spin through your duct system for more than 450 rpm
Top-quality vacuum to get rid of dirt, dust mite, and any other particles trapped in the ducting
Dual HEPA filters that can remove 99.97% of allergens
EPA and FDA-certified human and pet-friendly sanitizer
HEPA Air Purifier, which can remove up to 99% of germs and bacteria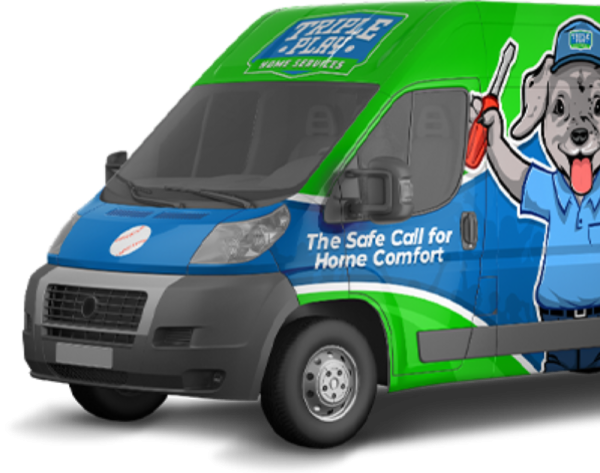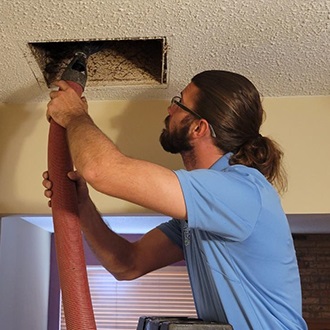 What are the Advantages of Air Duct Cleaning?
According to an EPA report, Americans spend more than 90% of their time indoors. If you have an HVAC system, it means that you spent 90% of your time breathing recycled air.

Your ducted system will acquire air from the room through the return vent and bring it to your unit. The unit will then dehumidify or cool the air and deliver it back to your room through the supply vents. And that's it. So it means the bacteria won't be killed in the process. Your HVAC unit's filter does offer some level of protection, but the filter should be the right one.

So if you haven't had air duct cleaning in Edmond, OK for many years and don't have the right filter, it's highly likely that you're breathing in air with dead skin cells, pet dander, bacteria, and viruses, among many others.

It sounds nasty, isn't it? But you can get rid of any air pollutants with proper air duct cleaning, installing the right filter, and other products that could effectively eliminate PM and make your indoor air freshener and cleaner than ever.
Signs You Need Duct Cleaning Services in Oklahoma City, OK
Duct cleaning doesn't have to be performed in a daily or annual interval. Once every five years will suffice, but the frequency will still depend on various factors. Generally, contact your duct cleaning contractor if you experience or notice the following:
Someone at home smokes or is suffering from allergies, asthma, auto-immune, or health disorders.
The house you're living in is older than seven years.
You live in a high traffic or construction area
Your home has well-sealed windows
Mold in your HVAC system
Sudden increase in energy bills
Oklahoma City is rated by the EPA as the 4th worst in "indoor air quality" in the United States. This alone should be enough reason to get your IAQ tested. And if your IAQ score is hazardous, we're always available to change it back to something good.
All-In-One Duct Cleaning Services in Oklahoma City, OK
Does your indoor air feel stuffy and stale? Are you experiencing higher-than-normal energy bills lately? Or just decided it's time for duct cleaning?
Whatever your situation is, Triple Play Home Services can always help with your duct cleaning needs.
Contact us at
405-283-3977.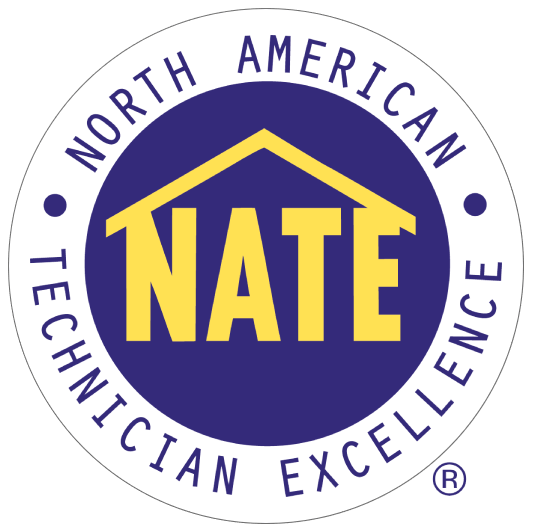 Our Technicians are NATE-Certified!
NATE certification is the gold standard in the HVAC industry. That's why our technicians are NATE-certified, meaning they've proven their knowledge and skills in installing or servicing heating and cooling systems. When you call us for service, you're confident that you're getting the best possible service from the most qualified technicians.